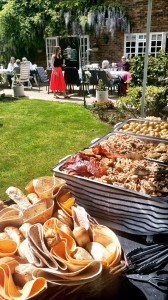 Here at Hog Roast Somerset, we have always been greatly inspired by our idyllic home county, and many moons ago when we decided to start our own hog roast company, we could think of no method of cooking that is more suited to Somerset. More than 2 decades later, we still feel exactly the same way and we are very proud of what we have accomplished. We have perfected the art over the years and gone on to become Somerset's leading supplier of hog roast catering services. This isn't just down to our exceptional slow-cooked pork however; we design and deliver well-rounded menus to suit all occasions and tastes, using only the finest homegrown produce and ethically-reared meat that Somerset has to offer.
We are incredibly discerning about sourcing our ingredients and we have the highest possible standards when it comes to preparing and presenting all of our dishes. This is what our customers love about us.
Our Individual Approach To Catering
If we had to choose one word to define the Hog Roast Somerset team's approach, it would be 'versatility'. Our all-encompassing cooking methods and highly adaptable hog roast machines allow us to roam the length and breadth of the county cooking for any occasion, in any location. Because our streamlined, mobile kitchen can be transported and used anywhere, nowhere is out of bounds.
Outdoor events in a rural setting will always be incredibly popular here and there is no end to the different types of occasions we get asked to cater for, from formal wedding feasts, to massive buffets for folk music festivals. Our style of cooking isn't just suitable for large scale outdoor celebrations though. We are just as good at catering for intimate indoor gatherings, private parties in your own home or company conferences in the centre of Bath.
Thanks to our highly adaptable style and ability to fit into any environment, our catering services are suitable for all settings and celebrations.
Hog Roast Catering At It's Best
Our menus are as diverse as the locations we cook in. We can provide mighty meals or food with finesse, depending on what you need for your special occasion. As well as offering a range of alternative slow-cooked meats, if pork is not your number one choice, we also supply imaginative vegetarian options and gluten-free substitutes.
Our range of side salads, seasonal vegetables and potato options are equally tempting, and if your event has a more formal feel, we can offer a sophisticated selection of individually handmade canapes, starters and desserts.
Whatever menu option suits you best, every single dish is made using carefully selected, locally-sourced ingredients.