Somerset is home to the most amazing hog roasting company. Simply named hog roast Somerset. Our company is made up of an extensive team of dedicated individuals who create the most divine dishes in the country.
Exceptional customer service is something that we take pride in here at Hog Roast Somerset. From beginning to end we make sure that we are always on hand to support and advise you through every decision. Over our 26 years of experience we have provided for hundreds if not thousands of private parties, formal weddings, informal corporate events and much more. With many of our clients returning for annual work events, anniversaries and other special occasions.
Our Hog Roast Somerset menus are extensive and offer special requirements such as vegan, gluten free and vegetarian. Our flexibility helps people from all walks of life and our prices are very attractive. At any event, we bring our professional hog roasting machine to cook the chosen meat to perfection. Be it hog, beef, chicken or lamb!
Hog Roasts for all Occasions and Events
Whether you are holding a corporate event for hundreds of people or a small family party a hog roast is perfect. The hog looks and smells great while it is cooking and the succulent roasted pork you get tastes divine. There really is nothing quite like a spit-roasted hog, however, at Hog Roast Somerset we also offer a range of other meats. In addition, we can provide a selection of side dishes and party platters to make sure that everyone, even vegetarians, has a great selection of food to enjoy. No one will go home from your event unhappy or hungry.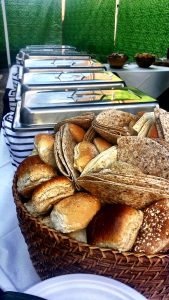 Hog Roast Somerset understands that planning a perfect event can take a lot of preparation and effort, catering for many different guests, with different requirements. If you are to choose Hog Roast Somerset for your next event you can feel rest assured that all your guests will leave your occasion with a stomach full of delicious food, whether they are vegan, vegetarian or have any other dietary requirements. Leaving yourself to enjoy the party, and not even have to worry about clearing up afterwards!
We offer the most polite and professional service. Our company as a whole really is a delight and we always bring a spark to your chosen occasion.
Hiring Hog Roast Somerset Caterers Couldn't Be Easier
Contact us today to find out about our classic, wedding, fine dining and gourmet menus. Choose one you like and we will quickly give you a quote. To get great food for your party or event all you need to do is to give us a call.
All you need to do, is leave your details in our contact form, or send us an email and we'll take care of everything else. Leaving you more time to send out your invitations and making the venue look spectacular.